The Artist
---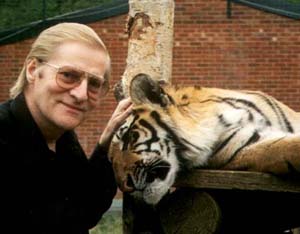 Roy Chaffin - with one of his friends
THE MAN WHO TAMES TIGERS WITH A PAINTBRUSH
In 1986 Roy Chaffin gave up a successful commercial career to devote all his time to becoming a professional wildlife artist.

He soon built an international reputation for detailed and often dramatic paintings of wildlife. With a particular love of the great cats, he has become known as "the man who tames tigers with a paintbrush".

One man shows of his work have been staged around the world, from the Fine Art Centre in San Francisco, USA, to the local Watford Museum. A particularly successful solo exhibition in Northampton was sponsored by Jaguar Cars. Joint exhibitions include numerous shows at the Mall Galleries, Westminster Gallery, Lamont Gallery and Llewellyn Alexander Gallery in London, at St. Albans Abbey, Gloucester Cathedral and by invitation at Hatfield House. His work was also included in the "Whaletail" exhibition in South Africa.

He works primarily in acrylic on stretched canvas, but undertakes commissions, lectures and teaches in all media including oils, watercolour, oil pastels, soft pastels, and pencil.

A legacy of his earlier business career is a strong interest in photography and in computers and all things electronic. He is entirely comfortable with computer graphics and developing the public's interest in computer fine art. He is an experienced and competent broadcaster.

To heighten awareness of conservation issues, he founded 'PAWS' - a competition which for 14 years provided encouragement to amateur wildlife artists in Europe and the Americas as well as in Britain.

In 1999 he was nominated as a 'Creative Briton' in the awards event sponsored by the Prudential.

Roy has been retained as a Demonstrator and Presenter for Winsor and Newton continually now for over fifteen years. In 2001 they presented him with a Limited Millenium Edition Silver Watercolour Box, in recognition of his "total commitment, abundant enthusiasm and professional competence". The award is a source of great pride for him.

He has a fascination for every detail of the natural world, which he insists we must strive to understand if we are to have any hope of succeeding in protecting it. He is adamant that we must avoid fanaticism and work in a way which is both practical and possible. He calls this intelligent conservation.

A trip to British Columbia, which included a visit with fellow professional wildlife artist Robert Bateman, whose work he has admired for many years, heightened his enthusiasm still further for painting, for teaching and for conservation.

For many years a Vice-President of the Westminster based United Society of Artists, he also supports many local organisations. As Chairman and later as President of Hertfordshire Visual Arts Forum, he helped to shape the Forum into the successful organisation it is today, finally stepping back in 2003. He was also Chairman of the Watford Area Arts Forum for a number of years and is still an active President of the Watford and Bushey Art Society. He is a member of the National Society of Feline Artists, and the prestigious London Sketch Club known as 'The Langham'.

His hobbies include clay-pigeon shooting and he also spends leisure time writing flight simulator software for Microsoft's Flight Simulator programmes. Best of all, he likes the company of the animals he paints - in his own back yard or travelling the world to observe them.


---



---
To contact Roy Chaffin Studios:-
E-mail:- roy@roychaffin.com


or

Telephone:- +44 (0)1923 225618

or


:- Roy Chaffin Studios, 10 Nascot Wood Road, Watford, Herts. WD17 4RS, UK