Dutch FS Weekend - Report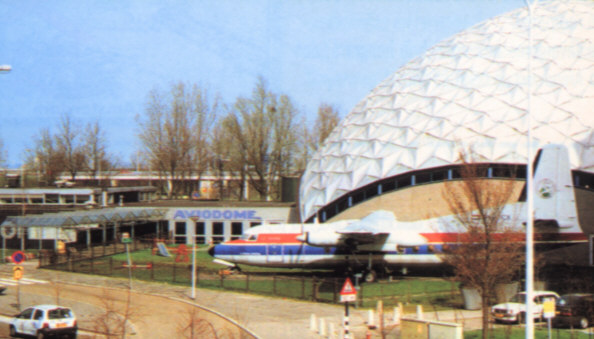 The weekend started off to a "flyer" when British Airways Captain Alan Prior invited me to occupy the "Jump Seat" for the whole flight to Amsterdam (Take-off, flight, and landing). My thanks to Capt Prior and his First Officer Mike Billington for a wonderful and educational experience.
I cannot rate highly enough the success of the weekend and the welcome both my wife and I received on our arrival in the Netherlands. We were totally unexpectedly met at the airport and welcomed with a bouquet of flowers for my wife and a bottle of wine and a Dutch cheese for myself. It really was VIP treatment all the way. Our thanks to Bob Iken of the DFSO for arranging all of this. Add to that the free upgrade of car to a Merc. and hotel room to a suite and you get the drift of what I am saying.
We were then greeted at the hotel by Enno Borgsteede of the TCA who was responsible for taking care of us during the weekend. A job which he did absolutely wonderfully. Enno should you come over to England I would be delighted to return the compliment.
At the show on the Saturday morning the story was exactly the same, "First class Treatment" all the way. I was invited over to the Netherlands as a "Special Guest" and was certainly treated like one. I have been to many countries around the world, to attend many different events but have never before been welcomed so warmly and genuinely, which takes nothing away from previous welcomes at other events.
The whole weekend was a wonderful success and attracted masses of visitors. I personally spoke to hundreds of visitors (in english, as I do not speak dutch) about the MAAM R4D and the Dutch PH-DDZ DC-3 that we previewed at the show. The compliments and comments received on the two packages were nothing short of astounding.
From all I heard from the organisers, the visitors, and my own observations I think the weekend was an total success. There were many stands showing a whole range of aspects of FS, from hardware to software.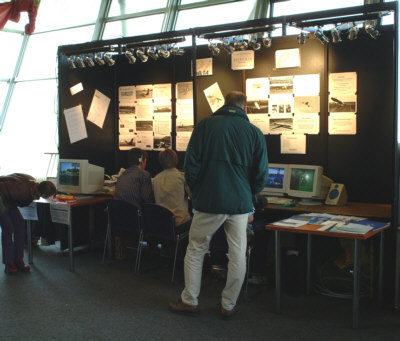 Once each day I was asked to do a presentation about the R4D and DDZ on the fantastic set-up that the Dutch Flight Simulator Organisation have at the show. This consists of about 12 PC's linked together through a "mixing desk" and two "Video Beam" machines that throw images on a giant screen. As you can see from the picture below these sessions were very popular, and it was difficult to find a vantage point to see the presentation.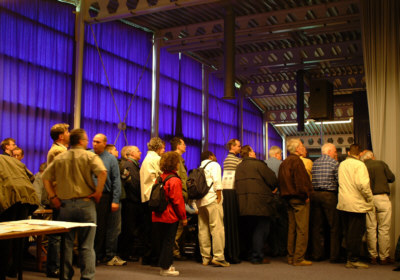 The DFSO set-up has to be seen to be believed. :-)) As with all such shows, a massive amount of time and effort has to be put into rehearsal beforehand. But it certainly paid off.
The picture below shows you just a little of the tangle of wiring necessary to make it all work. I shall never worry about the amount of wires behind my computers again :-))
My presentation displayed the finer points of the two packages, pointing out some of the features that can only be found by reading the manual in detail. We then tied it all together by doing a take-off, circuit, and landing with both aircraft together. My two pilots Rob de Bakker, and Ben Van Boom did a brilliant job, as neither of them had even seen my script before the event and certainly did not get the chance of a rehearsal. Their professionalism was an enormous credit to them.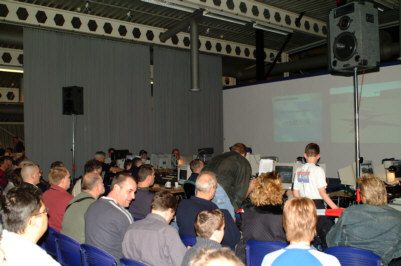 I understand that the DFSO do shows at other venues during the year, and if you have not seen them in action before, then I strongly advise you to pay them a visit. They certainly opened my eyes as to what is possible.
At the beginning of my Saturday presentation I was completely "thrown", because it was interrupted with a special award to both Jan Visser and myself of a very large framed photograph of the PH-DDZ in recognition of the work we had done with it. A very unexpected but welcome surprise.
During the time I was not doing the presentations with the DFSO, I was situated on the TCA stand with a display of RCS Panels DC-3 work, and talking to the visitors. Again both my wife and I were made extremely welcome by the members of the TCA (as seen below), who were a great bunch of guys.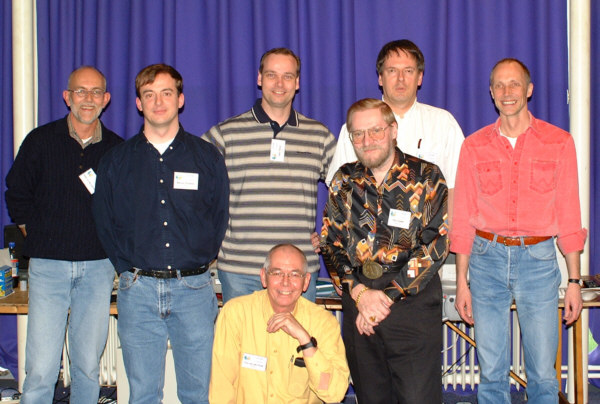 After the Saturday presentation both myself and Jan were whisked off for the "Special Treat" that I mentioned some time ago on this page. This turned out to be a VIP trip to the Dutch Dekota Association on the other side of Schiphol Airport where we were able to "play" with the PH-DDZ and it's sister ship.
I have to say, I have seen some wonderfully restored aircraft in my time, but few come close to the PH-DDZ. I spent a happy hour in the cockpit finding out all those little things that I missed when programming the gauges. However I must say what we have is pretty close.
Without boring you with the details we spent a very happy afternoon with the DDA and would like to thank all the staff for making us so welcome. An afternoon to savour. J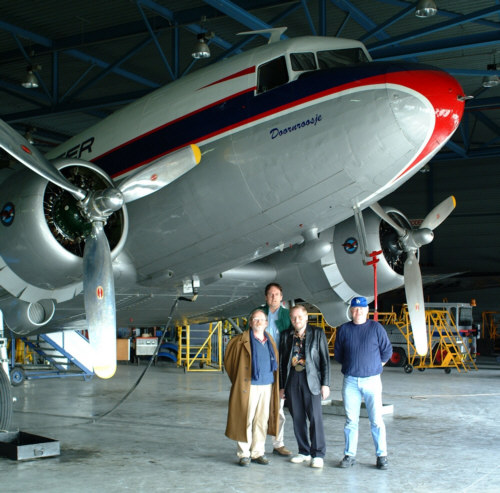 From left to right -- Jan - Enno - Roy - Jos
and the star of the show PH_DDZ
During the show we were able to sell the few MAAM CD's that I was able to take over with me. A very welcome boost to the MAAM Engine Appeal from our friends in Holland. I was delighted to be able to talk with so many people and personally sign the CD's.
Whilst on the subject of signed CD's, on behalf of the developers, Bill Rambow, Jan Visser, and myself (Roy Chaffin) we were delighted to give a very special MAAM CD that had been especially signed by all three authors, to be auctioned off in aid of a local charity (a Ronald McDonald orphanage project in Rotterdam). This auction took place on Sunday and one very lucky and slightly poorer J flightsimmer, went home with a very unusual collectors item. Details of the auction, the money raised and the charity will appear on this page soon. I would however also like to mention that this very generous gentlemen also insisted in sending a donation of the "full normal CD price" to MAAM as well. This man is an example to us all.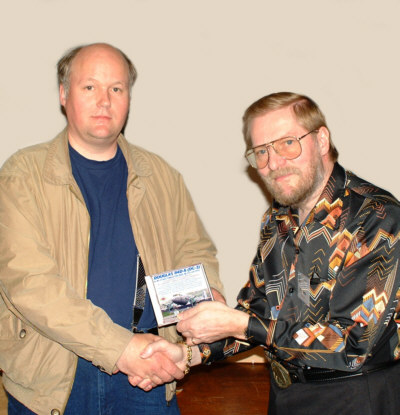 At this point, I would just like to share with you, a comment made to my wife, by a man during the show. The gist of what he said was :- "I was very surprised, Roy is really a very nice man, not at all like I had imagined from the website, when he chomps pirates".
Well Sir, I hope that is the case J I do try hard to be cheerful, pleasant, and kind, to my fellow flightsimmers, However I do not suffer fools gladly and hate pirates that try to spoil things for others.
Back to the show, I don't know the exact attendance figures, but I would guess that Sunday was even busier than Saturday, but both days were extremely good.
For me personally it was great to meet in person so many of the people that I had spoken to via email. Some of whom had travelled many miles to be there. An example was Arne Bartels, (the designer of our Sperry) who drove for three hours in each direction just to make an appearance at the show, and for us to meet.
Just to sum up, I would not have believed it was possible to travel to a foreign country, where they speak a language that I do not understand and feel so at home and talk so meaningfully to so many people about what is a very complex subject. Quite incredible !!!
This was a weekend that I will remember and cherish for a very long time, so a big THANK YOU to you all.
After three a further three days of holiday in the Netherlands, we returned home to the UK, and the whole trip was finished off in style. I was privileged to be invited again to occupy the "Jump Seat" and did my first "real" night landing at London Heathrow, something I have always wanted to do. My thanks to Captain Peter Churchill, and First Officer Simon Ramshaw for their hospitality on the flight deck.
Wow !!! What a week !! :-)
Roy