PRESS RELEASE
THE R4D TEAM ANNOUNCES THE RELEASE OF THE DUTCH DAKOTA ASSOCIATION'S PH-DDZ FOR FS2000
Jan Visser, Roy Chaffin, and Bill Rambow, of the R4D TEAM and RCS Panels have just released an all new Douglas DC-3 aircraft, panel, and sound package for MS FS2000. Following the record breaking success of their award-winning Freeware and Donation-Ware CD versions of the Mid Atlantic air Museum's U.S. Navy Douglas R4D-6, the team has produced a completely different DC-3 model and panel. Like the R4D, though, the Dutch Dakota Association's PH-DDZ simulation was developed from digital photos of the real aircraft, inside and out, at the DDA's home base. Jan assumed the team lead on this project, producing an aircraft with incredible detail and beauty.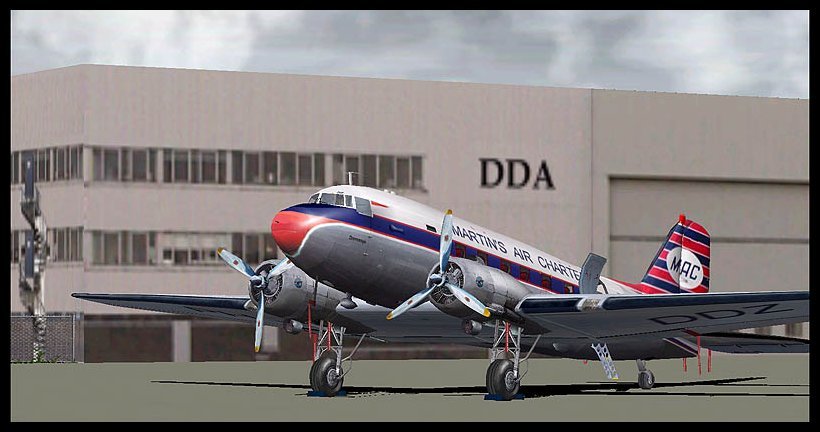 The new, self-installing Freeware replica of the DDA's beautifully restored Martin's Air Charter Dakota was introduced this past weekend on its home ground. Roy Chaffin, who programmed the gauges for Jan's new panel, presented PH-DDZ to about 2000 Flight Sim enthusiasts at the "Aviodome 2001" (see link for pics) event put on by the Dutch Flight Simulator Organization at Amsterdam Schiphol Airport. His skill and experience as a public speaker and presenter honed in his "other" profession as a world renowned wildlife artist stood Roy in good stead, according to all reports of the DFSO gathering. DDZ team leader, aircraft and panel designer, Jan Visser tried to keep a low profile on his home ground--not always successfully, though :-)
Simultaneously, Bill Rambow, DDZ's gauge graphics artist and manual writer, was talking about the new package with a crowd of enthusiastic simmers attending Avsim Online's annual social gathering in Virginia.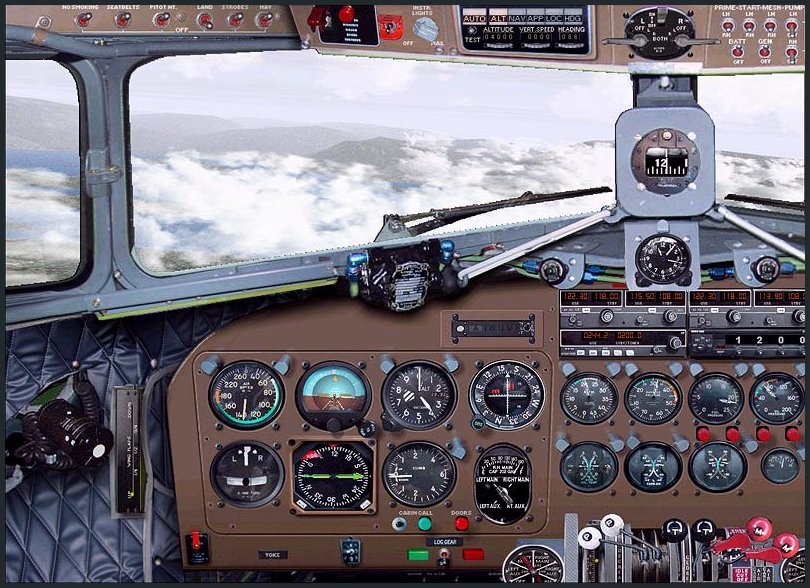 Jan's photo-real panel is closely modeled upon that of the real DDZ and features day and night gauge graphics by Bill Rambow with "just a touch of glass effects"...
Jan did not stop with the straight ahead view, either. The digital photo-realism which has become the hallmark of the R4D Team has also been extended to seven fantastic cockpit views, as well...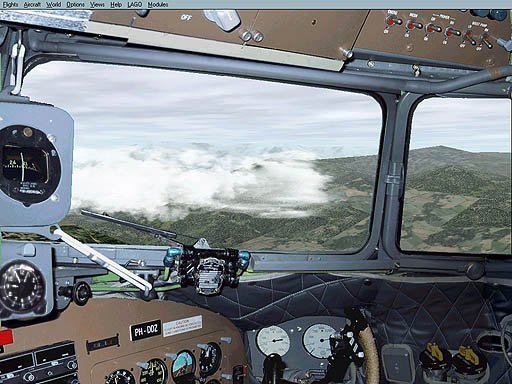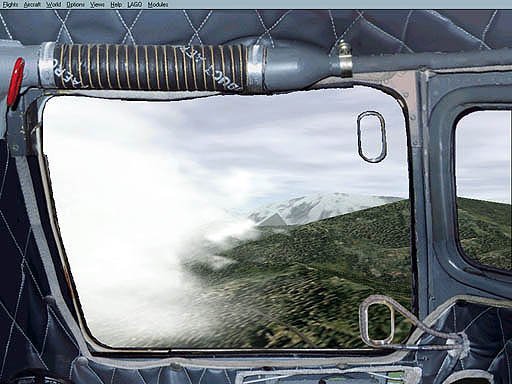 The package features complete, genuine DC-3 checklists and an extensive, fully illustrated (and musically accompanied) manual that explains in detail how to operate the Dakota in all phases of flight...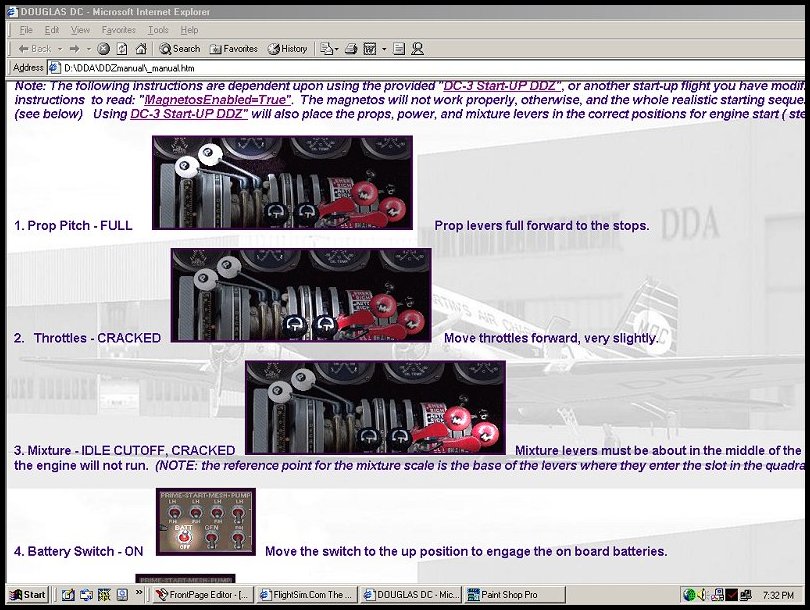 All in all, we believe you will thoroughly enjoy flying the new Douglas from the R4D stable. You can download the zip archive "dc-3_ddz.zip" that contains the self-installing package from the RCS Panels website, or the major Flightsim websites.
*************************************************
What's next for the team? It's "Briefing Time", MAAM's gorgeous EAA Champion bomber. This B-25J has been featuered in a number of movies, including the classic "Catch 22", and has been called "the best restored B-25 in the world". Bill and Roy are hard at work on the panel and gauges, and now that Jan has launched his baby, he'll be throwing the Mitchell on the drawing board. On May the 19th, Bill and Alan Landsburgh, our sound engineer, will be making an in-flight video and high fidelity sound recordings for the package while MAAM President Russ Strine buzzes the restored Liberty Ship, S.S. John W. Brown, in the Chesapeake Bay. Who says FS add-on developers don't have fun? :-)))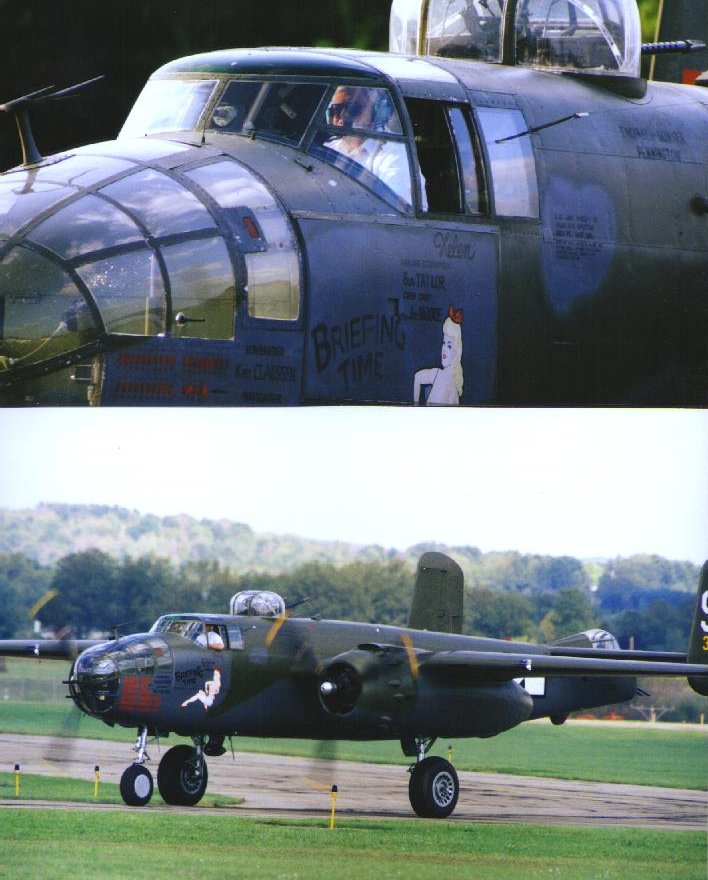 We have some revolutionary new features in store and plan on demonstrating the prototype at the World War II Weekend, June 8-10, 2001 in Reading, PA. If you can possibly make it to this unique and exciting show, you certainly should, and be sure to stop in the hangar, say hello to Roy and Bill, and try out the new bird.
If you appreciate our work, please consider making a small donation to the Engine Replacement Fund of the Mid Atlantic Air Museum. Thank you!
Happy Landings - Tail Low